5 Ways To Treat Your Website Like An Employee And Make More Money As A Result
Sunday, November 11th, 2012 at 6:26 am
Step 1 of 3. Read This:
Treat your website like one of your employees and it will start to behave like one.
Way No. 1 | Look after your employee – give them the attention they deserve, pay them well and don't neglect their needs
Way No. 2 | Make sure your employee looks the part – first impressions count: scuffed shoes and scruffy clothes won't bring in the business
Way No. 3 | Introduce your employee to the whole workforce – don't let them feel like they're on the sidelines of your business, separate to everyone else – they need to be a fully integrated part of your business, not an after-thought bolted on at the last minute.
Way No. 4 | Keep your employee informed – give them the latest information on the focus of your company, new services, new sales scripts, latest changes to the way you do business etc.
Way No. 5 | Give your employee mobility – buy them a company car so they can get out into the world and sell for you, they won't sell much stuck in one place and not being found.
Step 2 of 3. Pin It
Step 3 of 3. Want Michael to Personally Double, Triple, or Even Quadruple Your Business… For Free? Then Click Here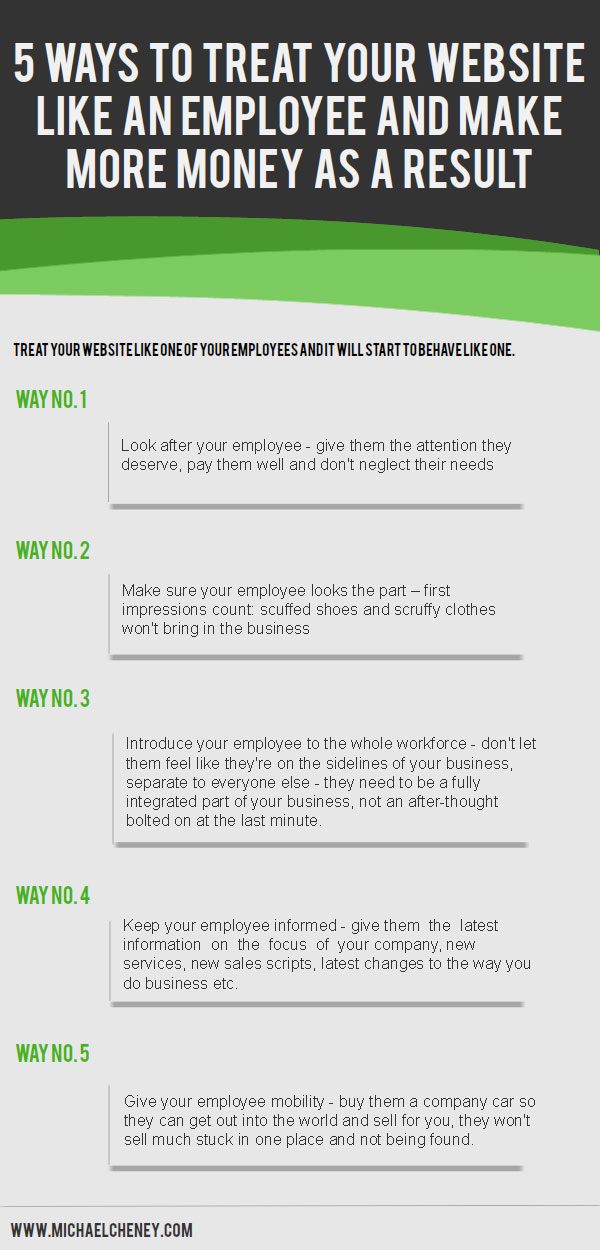 Filed under: internet marketing • internet marketing advice
Like this post? Subscribe to my RSS feed and get loads more!