5 Real-Life Examples Of Permission Marketing In Action
Sunday, December 30th, 2012 at 10:45 am
Step 1 of 3. Read This:
Real Life Example No. 1 – "Don't Buy In Spain Until You've Read This Guide"
Rather than just advertising the properties they have for sale this company cleverly advertises its guide on buying property in Spain – "Stunning 232 page colour catalogue packed with everything you ever needed to know about buying a property in Spain".
Real Life Example No. 2 – "See America With The Help Of Hertz FREE Driving Guide"
Positioned in the travel section of a national newspaper this one caught my eye – it's very clever. It will attract all the readers that are, wait for it, going to be driving in America. Of course there will be people who request the guide that don't ever plan to hire a Hertz car but there will be a lot who do.
Real Life Example No. 3 – "Don't Buy An ISA Until You've Read Our Free Guide."
An ISA is a high interest, zero tax savings product that has become popular in recent years. This advertisement was in the financial section of a newspaper.
Real Life Example No. 4 – "Give It A FREE Test Drive NOW!"
It offers readers the opportunity to take the software for a 'test drive' before buying it. This is a great way to entice people onto your list and also demonstrates the value of your product to encourage them to buy it at a later date.
Real Life Example No. 5 – "To Get Your FREE Copy Of Anthony Robbins "Notes From A Friend" Simply Complete The Following"
The above company is giving away a free hardcopy book that will be sent out through the mail. In return they will no doubt include information about Tony's upcoming events, seminars and tapes etc.
Step 2 of 3. Pin It
Step 3 of 3. Want Michael to Personally Double, Triple, or Even Quadruple Your Business… For Free? Then Click Here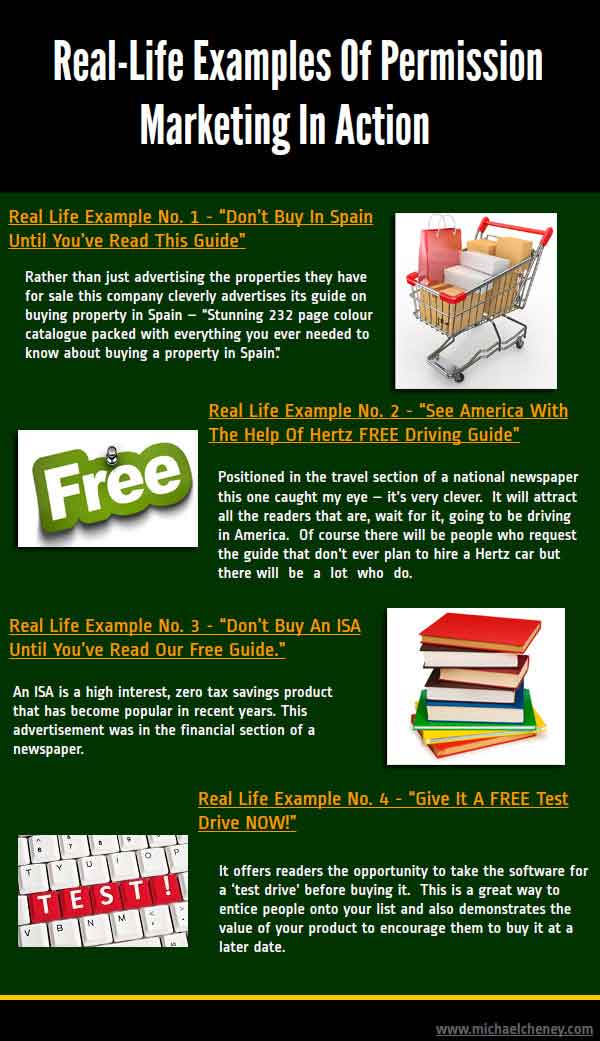 Filed under: Business Development • internet marketing • internet marketing advice • internet marketing events • list building
Like this post? Subscribe to my RSS feed and get loads more!