How You Can Rule Email Rather Than The Other Way Around
Monday, January 28th, 2013 at 6:26 am
Step 1 of 3. Read This:
If you can survive only using your email programme once or twice a day – great! The rest of us need coping strategies to make sure we don't waste valuable minutes or even hours in that Inbox.
Although I do go in and out of my email a few times every day I now restrict myself to only sending emails during two periods each day. First thing in the morning and also last thing in the day.
Email Is Not Work – It Is The Thief Of Time!
If you spend all your time in your Inbox replying to emails, sending new ones and reading incoming ones you are treading water at best.
Your business is not moving forward.
You need to be thinking up new ideas. Discussing marketing strategies with someone. Conducting market research or competitor analysis. You need to be
'out there' finding out how to improve your product or your website.
Step 2 of 3. Pin It
Step 3 of 3. Want Michael to Personally Double, Triple, or Even Quadruple Your Business… For Free? Then Click Here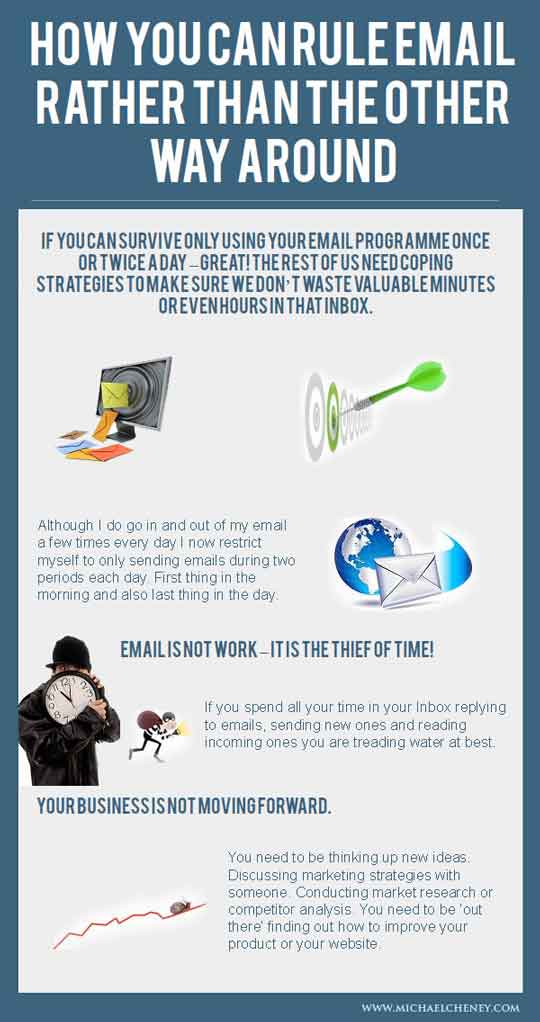 Filed under: affiliate marketing • internet marketing • list building • website content
Like this post? Subscribe to my RSS feed and get loads more!