What To Do With Your Big "To Do" Book
Thursday, January 31st, 2013 at 8:24 am
Step 1 of 3. Read This:
Writing down everything you need to do is one way of lessen the heavy thoughts of your brain. When you are done with brain dumping your mind into the book just close it and leave it for a week.
By the way – although I said to set aside two hours doing this exercise I have heard of people taking days to do their initial brain dump! Remember – whatever it takes!
You will get the time back you invest in this exercise many times over by being more productive and focused on exactly what you need to be doing at any given moment.
After a week, go back to your big book and take some time to read through everything you've written. I guarantee you will already be able to cross out some of the "To Do"s you have written and also add some new ones.
From now on this is the process you repeat every week:
1 – Read the book
2 – Cross out things you've done or have later deemed irrelevant
3 – Add new tasks / goals / actions
The idea is simple in principle but getting started and maintaining discipline to stick to it takes effort.
Step 2 of 3. Pin It
Step 3 of 3. Want Michael to Personally Double, Triple, or Even Quadruple Your Business… For Free? Then Click Here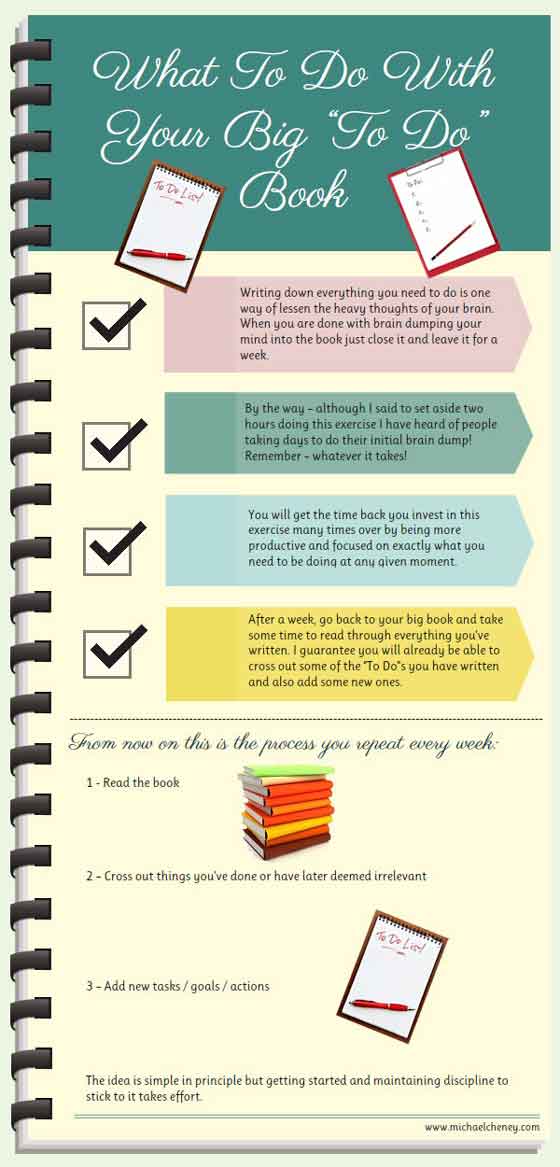 Filed under: adsense • affiliate marketing • blogging • internet marketing • internet marketing advice
Like this post? Subscribe to my RSS feed and get loads more!