How To Achieve More Than You Ever Thought Possible
Saturday, February 2nd, 2013 at 8:34 am
Step 1 of 3. Read This:
Time To Take Time Out
In my afternoon break I like to take more energy on board in the shape of a cereal bar or something relatively light and maybe some fruit juice or water.
I take a walk around my house to stretch my legs and get the blood pumping around my body again after being stationary for over an hour.
Using Carrots Effectively
You will have heard the analogy about trying to get a donkey to keep moving by either prodding it with a stick or rewarding it with a carrot. Well you can do the same thing with yourself!
It might seem odd to reward yourself in this way and as intelligent human beings it seems ludicrous that we can 'kid ourselves' into doing something for a reward.
But the secret to the success of this strategy is that sub-consciously, our mind starts to associate the work we are doing with the reward.
Finishing Off
Right before I finish for the day I will complete my timesheet and look over where my time has been spent that day, what has taken longer than I would have liked and which tasks, if any, I could delegate to others or remove completely.
Step 2 of 3. Pin It
Step 3 of 3. Want Michael to Personally Double, Triple, or Even Quadruple Your Business… For Free? Then Click Here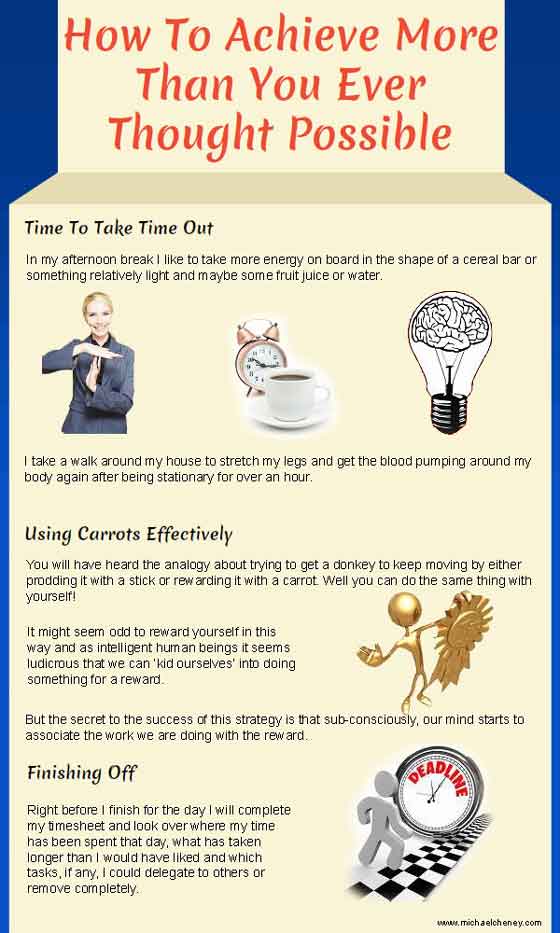 Filed under: affiliate marketing • Business Development • internet marketing • internet marketing advice
Like this post? Subscribe to my RSS feed and get loads more!