Emulate, Simulate And Accelerate
Sunday, February 3rd, 2013 at 8:36 am
Step 1 of 3. Read This:
Chill Out & Re-Energise Time
I used to be constantly thinking about work, reading a book or at the computer but found that unplugging for at least an hour every day does wonders for your energy and concentration the rest of the time.
After some 'thought-free' relaxation I will have dinner. As my body and mind will not be as taxed in the evening I can now eat something more substantial that will require more digestive effort! Pasta, rice or potato dishes are my favourite!
Feeding The Brain
By reading in the evening I am learning something new every single day and usually these are things that will either improve my business or help me to grow as a person.
There are hundreds of thousands of business people who go through life trying to solve all the problems on their own when there have been millions of words written by people who have already been there and found the solutions!
The End Of Another Successful Day!
I'll set my mental alarm clock, put my head down and then get a good night's sleep in preparation for the day ahead.
Step 2 of 3. Pin It
Step 3 of 3. Want Michael to Personally Double, Triple, or Even Quadruple Your Business… For Free? Then Click Here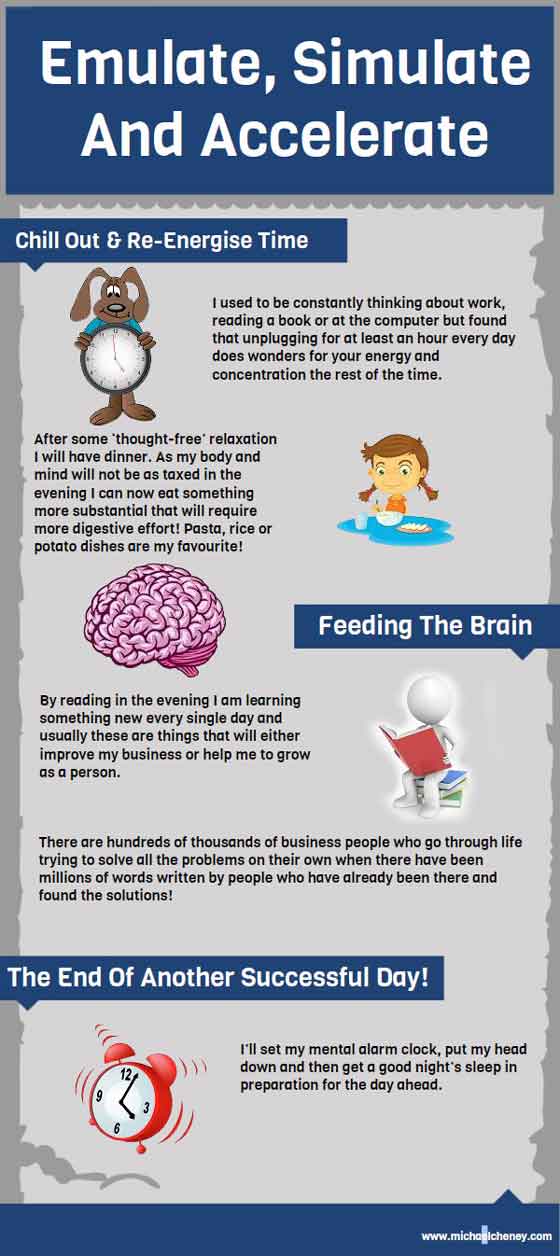 Filed under: affiliate marketing • Business Development • internet marketing • internet marketing advice • website content • website traffic
Like this post? Subscribe to my RSS feed and get loads more!