The Real Power Of Publishing Your Own Articles
Monday, February 4th, 2013 at 8:38 am
Step 1 of 3. Read This:
If you devote a small amount of time every week to creating and submitting articles you can soon find a large percentage of your website's traffic being generated by this method.
One of the best things about using this technique to promote your website (apart from it not costing you anything!) is that your articles act like your very own automatic salesmen dotted all over the web. They remain on the Internet forever!
"Do You See The Power Of Article Writing?!"
I wrote this one single article, spent around 20 minutes promoting it on the web and it will probably send me thousands of visitors absolutely free of charge! Now, unfortunately, not everybody that turns their hand to article writing achieves this same levels of success.
Writing Killer Articles
An article is just a collection of words that gets across a message of meaning, value and benefit to a select group of readers.
Step 2 of 3. Pin It
Step 3 of 3. Want Michael to Personally Double, Triple, or Even Quadruple Your Business… For Free? Then Click Here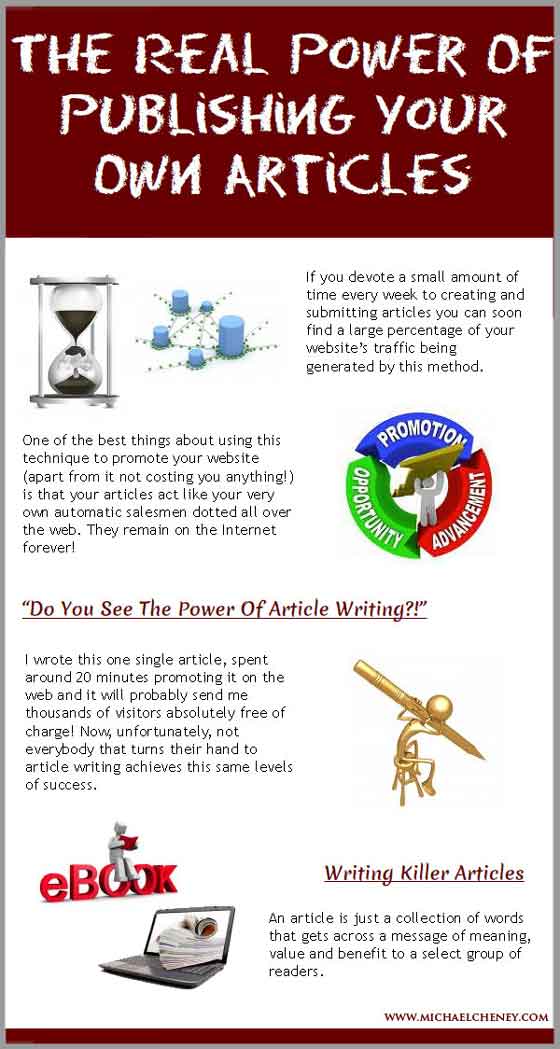 Filed under: affiliate marketing • Business Development • internet marketing • internet marketing advice • website content • website traffic
Like this post? Subscribe to my RSS feed and get loads more!