The 4 Simple Steps To Create A Killer Article
Tuesday, February 5th, 2013 at 9:38 am
Step 1 of 3. Read This:
Step 1 – "Starting With The End In Mind"
"What do I want to get out of writing this article?"
It could be that you are looking to promote a new service or product that you've just launched. But you can't very well write an article about how great your product or business is – you need to be far more subtle than that.
Step 2 – "Brainstorming Ideas For Articles"
Try and think of the last article you read on the web. Why did you read it? What attracted you to the article in the first place? What did you get out of reading the article? How did it make you feel after you'd read it?
Step 3 – "Solve A Reader's Problem With Your Article And You're On The Path To Success"
Write down as many ideas as you can for articles. Don't get too caught up in choosing a particular topic at this stage – the more you write down now the more articles you will be able to create in the future using these ideas.
Step 4 – "Create Your Article Sandwich"
First Slice – the beginning of your article
The Filling – the middle of your article
Last Slice – the conclusion of your article
Step 2 of 3. Pin It
Step 3 of 3. Want Michael to Personally Double, Triple, or Even Quadruple Your Business… For Free? Then Click Here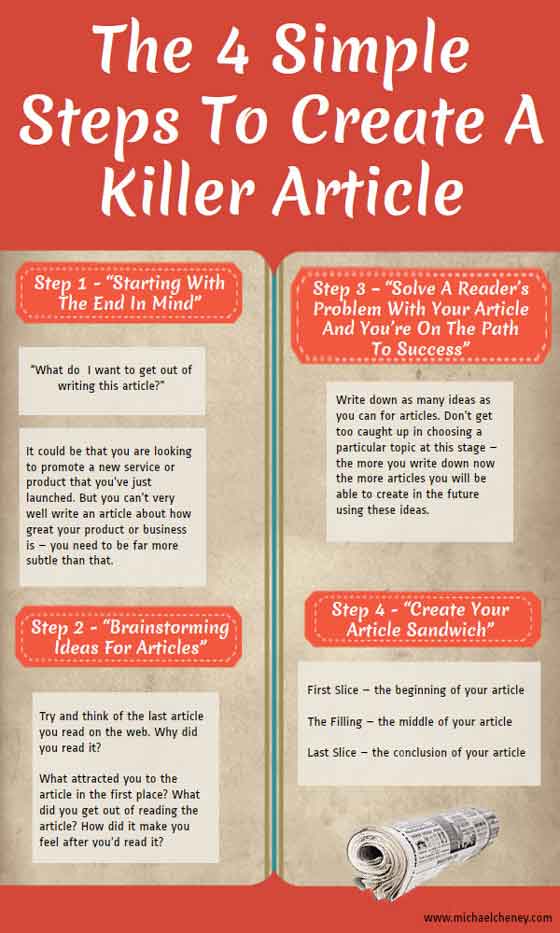 Filed under: affiliate marketing • Business Development • internet marketing • internet marketing advice • website content • website traffic
Like this post? Subscribe to my RSS feed and get loads more!