Building A Brilliant Biog Box
Sunday, February 10th, 2013 at 10:04 am
Step 1 of 3. Read This:
Your Biog Box is the last element of your article and, if you've created killer headlines, structured a well-flowing article and kept the reader hooked you will have lots of warm leads reading these words.
To give you more ideas of what to do, and what not to do, here are some real- life examples of article Biog Boxes:
Example 1
I'm going to stick my neck on the line and say that almost everyone who reads the biog boxes at the end of articles realises they are written by the author themselves. So unless a website specifically asks you to write something as if someone else was saying it about you, I would stick to "I am.." and "I do" etc..
Example 2
Box should point directly to the specific sign-up page – as long as you are confident that the page will always be there as don't forget: your published articles will be around on the web for a very long time!
Example 3
Brian is offering a free report that shows you how to "make more money with your website". This is a great idea – my only suggestion to improve it further would be to include a dollar value to the item so that people can appreciate what they are saving and how much time and effort has gone into creating the report. It's also great to see that the link takes you directly to the page you need to
grab the report – not just the homepage. So no hunting around!
Example 4
This is a clever idea that I'd not seen before. Rather than promote the author or their website it encourages the reader to sign up and run the article itself. This is a great idea as the fact that someone is reading the Biog Box means that they are interested in the article sufficiently to consider using it on their own website – especially if it means earning money as a result!
Step 2 of 3. Pin It
Step 3 of 3. Want Michael to Personally Double, Triple, or Even Quadruple Your Business… For Free? Then Click Here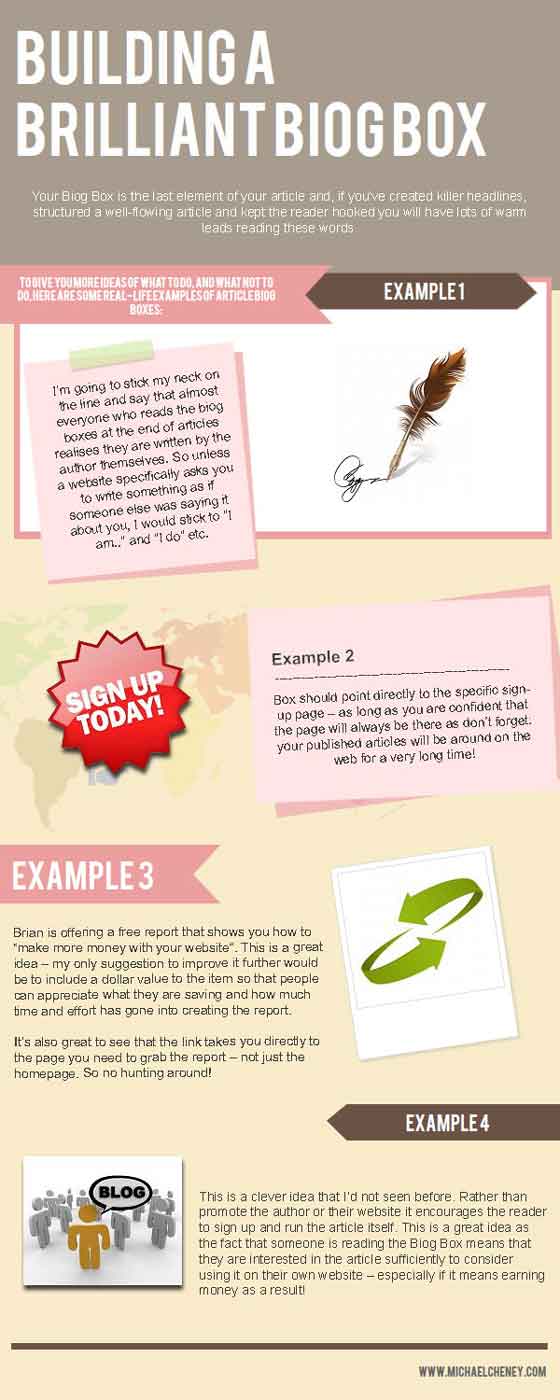 Filed under: adsense • affiliate marketing • Business Development • internet marketing • internet marketing advice • list building
Like this post? Subscribe to my RSS feed and get loads more!