How To Get Your Article Published
Wednesday, February 13th, 2013 at 10:15 am
Step 1 of 3. Read This:
Rules For Publishing Articles
Always play by the website owner's rules.
It only takes one small mistake or lack of adherence to their requirements for them to reject your article which, after all the effort you've invested is quite simply not an option!
Use The Personal Touch
Going the extra mile when you're submitting an article can reap huge rewards for you. If the website owner requests article submissions via email don't just copy and paste your article into an email and hit 'Send'. Use the personal touch
– find out the website owner's name for starters!
Submitting Your Article To Ezines
There are so many resources out there that openly request article submissions that I would avoid wasting time on sending speculative emails to Ezine owners on the 'off-chance' that they might use your article. Stick to the website owners that want articles and spend your time on finding more of these and on writing more articles instead of sending out speculative emails.
Submitting Your Article To Websites
Every website has a different system for accepting articles so keep your eyes peeled for their exact requirements.
Paying For Prominence
Some websites will offer you a 'special position' for your article or offer to highlight it in some way in return for payment from you. The only way to truly know whether or not this is worthwhile is to stick your neck on the line and try it. Only judge by results – this is where your tracking system comes into play.
Step 2 of 3. Pin It
Step 3 of 3. Want Michael to Personally Double, Triple, or Even Quadruple Your Business… For Free? Then Click Here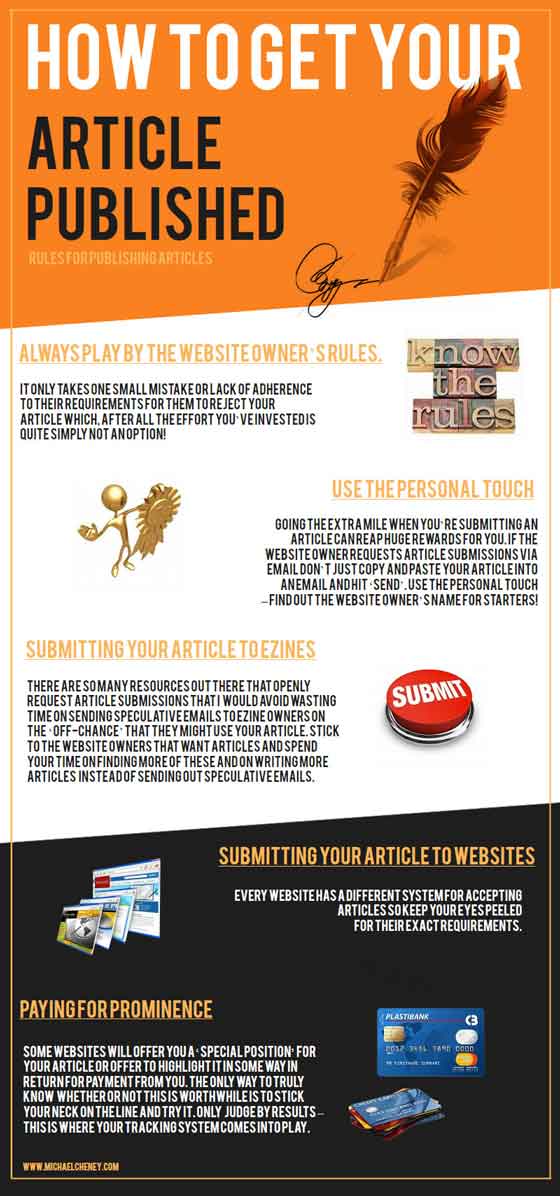 Filed under: adsense • affiliate marketing • Business Development • internet marketing • internet marketing advice
Like this post? Subscribe to my RSS feed and get loads more!