Getting To Know the Upsell's Little Brother: DOWNSELL
Thursday, February 21st, 2013 at 10:50 am
Step 1 of 3. Read This:
Everbody…Meet upsell's little brother: DOWNSELL.
Downsell is simple an offer that's easy to purchase. Easy meaning people don't have to think twice about it, no analysis or lengthy financial decision.
Simply put, this is an "easy to grab now" offer. Lower cost compared to the main product.
Now, how do you downsell?
1. When people say NO! to the upsell.
NO means NO. But this doesn't mean you can't take advantage of a no-no situation. Downsell! Offer a cheaper but similar offer. People can't resist cheap even if they had already said no to the first offer.
2. Downsell should not be as good as the upsell.
Don't just slash the price, cut back on the quality or content of the downsell too. It's all about the value. Lesser price, lesser value. More price, more value. The value is still there anyway. It's what matters, and it's affordable.
3. Downsell for a reason.
Some reason may be because the product is worth that lower price. Another is that, the product is created for downselling purposes,
Lastly, it can't be upsell all the time. You also have to market to those who really really can't afford the upsell by using downsell.
4. Chance for "lost money.
So your upsell wasn't successful. But your downsell would probably be more successful. Just as long as you make it so irresistible. The price alone is a no brainer. Make it something like a "get it now or regret later" offer.
5. Price is right.
A good advice is to cut the original upsell price in half to make it the downsell price. But you're not giving them the same product. The downsell product should be of the same half price value.
Step 2 of 3. Pin It
Step 3 of 3. Want Michael to Personally Double, Triple, or Even Quadruple Your Business… For Free? Then Click Here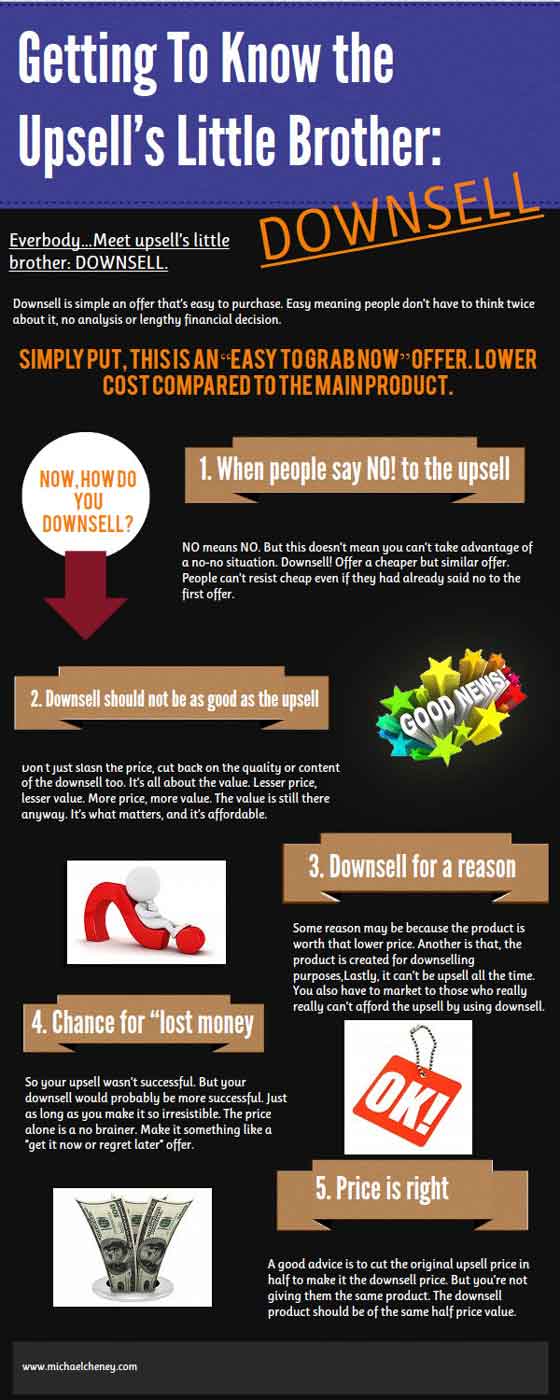 Filed under: adsense • affiliate marketing • website content • website traffic
Like this post? Subscribe to my RSS feed and get loads more!