Terrific Testimonials To Attract More Sales
Saturday, February 23rd, 2013 at 10:57 am
Step 1 of 3. Read This:
Buyers, and we are all buyers, are generally a cynical bunch and we will take any opportunity we can to feed this cynicism. A great way of overcoming this is to hit your readers with glowing testimonials about your product or service.
Choosing How To Present Your Testimonials
The best testimonials I've seen come in video format – they literally speak out at you from the web page! I think it will be a while until everyone moves in this direction and Internet connection speeds along with technical constraints mean that adopting a slightly less advanced approach might be best for you.
Deciding on exactly how you present your testimonials all comes down to what you are trying to achieve with them. Testimonials will add weight to your argument – they will add more voices to the belief that your product is the greatest. There are certain key elements that you need to try and attain with your testimonials:
Use testimonials to Boost credibility
Use testimonials to Demonstrate value and results
Use testimonials to Prove relevance to your target market
Use testimonials to Justify expenditure
At a bare minimum each testimonial should come with the quote, the person's name and their business (if relevant). It will add extra weight and believability if you can accompany each testimonial with a photograph. Better still would be a small audio clip or even video clip.
Step 2 of 3. Pin It
Step 3 of 3. Want Michael to Personally Double, Triple, or Even Quadruple Your Business… For Free? Then Click Here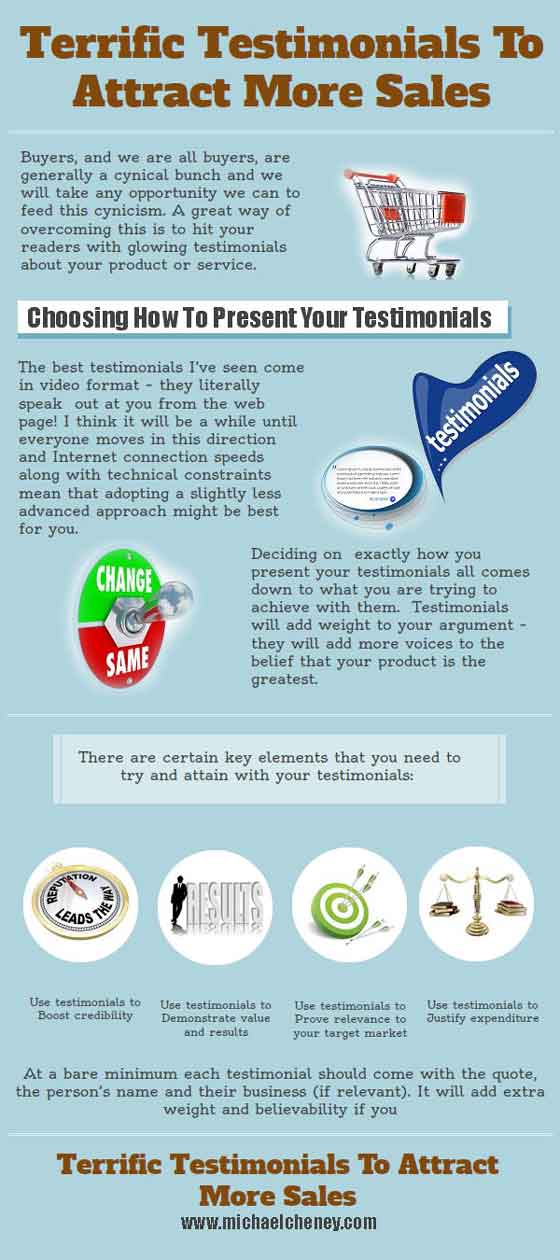 Filed under: adsense • affiliate marketing • Business Development • internet marketing
Like this post? Subscribe to my RSS feed and get loads more!