Welcome, WATCH THIS FIRST

---
1.1 Personal Email Access 
I zero my inbox at the end of every business day (not weekends or national holidays).
Before emailing me, ensure you are not asking something already covered in the training and materials on this page.
This is for high level consultancy - please contact my Support Team for Fast Pass answers to technical things, product questions and more basic queries. 
Your 12 months starts from the time your invested in the Fast Pass.
All emails should be no longer than 100 words and stick to
ONE individual topic.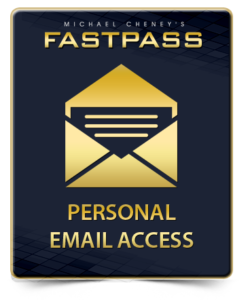 The unwritten gentleman's fair usage policy is - don't send me so many emails
that it pisses me off 🙂
I want to help you but if I feel you
are taking advantage,
not taking advice or not taking action then I'll likely just refund and send you on your way.
Having said all that, I do welcome your consultancy
questions to my personal email address.
Use the subject line "Fast Pass" and please keep it short: michaeljcheney "AT" gmail DOT com

---
1.2 Cellphone Access
You can reach me directly on my cellphone using the free app "Voxer".
Again,
please keep your consult questions short, to the point and on one topic.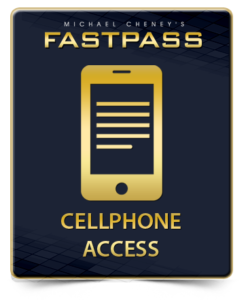 I'm a busy dude so will get back to you as soon as humanly possible.
And as above - if I think you are going overboard, not listening to my advice or bombarding me then I'M OUT.
To send me a consulting question on Voxer get the free Voxer app on your smartphone.
Then add the user "mchene542" that's me.
Then send a brief audio message (1 minute max) outlining your question and start with the phrase "Fast Pass" so I don't ignore it 😉

---
You made it here to the Holy Grail...
The best and fastest level of support in the internet marketing universe.
I have a team of 13 people in the business working full-time in almost every continent of the world!
And now you can get Fast Pass Support whenever you need it.
This can be questions answered, technical queries, product queries or help getting stuff set up.
Click Here to contact our Support Team and be sure to use the phrase "Fast Pass" to get the Fast Pass treatment.

---
#3. Fast Pass Cliff Notes
What follows are the RAW and UNEDITED cliff notes that I personally took after reading some of the best business and marketing books on the planet.
3 Things....
#1. Please DO NOT SHARE this document or its content because it is personal and private to me and also contains copyrighted material
#2. The formatting is horrible but the content is amazing - focus on the content
#3. This is a work in progress, living document, and I hope it inspires you to start your own reading and journaling habit!

---
#4. Fast Pass Brain Download
Download my entire $7 Million brain in 15 minutes flat...

---
#5. Fast Pass Swipe & Deploy
Personal email access (rules, fair usage policy)
Voxer access (rules, fair usage policy)
CLICK HERE to Download your swipe and deploy email campaigns

---
#6. Fast Pass Connections
I know just about everyone in internet marketing.
I have most of the big dawgs on my cellphone in front of me right now.
And I can intro you to them.
You just need to reach out to me (see higher on this page) and let me know who you want introduced to, and why.
You need to write a short elevator picth (250 words) of what you have to offer them.
Remember - gives' gain.
I'm not going begging to these guys unless it's a huge win for them!
(And them doing an interview for you, so you get a product created, is not a win for them - by the way).
So shoot for the stars but also be generous and realisitic in terms of what you're bringing to the table.
Just one introduction to the right person, at the right term, can explode your business into the stratosphere!
So when you're ready - reach out to me and let's do this!

---
#7. Fast Pass Tools, Hacks & Shortcuts
These are the best fast tools and hacks I use to get shit done fast. Period.
Like everything in business;
When you focus on the FUNDAMENTALS AND NOT THE FLASH, you succeed.
Yes some of these may appear "basic" - but have you been doing these "basic" things every day for the past 20 years? If so - you would be a millionaire by now, trust me...
Set a timer for every task you start to enforce urgency and make you speed up
Use Otter.ai to speak into your smartphone and turn voice into written words
Go to MensHealth.com whenever you need to get a quick headline, subject line or story opening for your emails, videos or posts
REMOVE the Facebook app from your phone - it's killing your productivity and you don't need it
Buy and use this Day Planner (it's same one I use to get stuff done)
Use this pop-up green screen so you can be video-ready fast
Get the Voxer app on your smartphone to communicate with your team, outsourcers etc.
Check your email first thing in the morning (then close it), then last thing in afternoon (then close it). Be strict with yourself it will save you hours!
Unsub from any lists that don't make you money (including shopping, news and other BS)
Set filters in Gmail / your inbox so things you don't need to read (like notifications) are autoread (can save you 30-60 mins per week)
If your inbox is always slammed just get a new Gmail.com account and start over and be ruthless about what you DON'T subscribe too
Get a phone which lets you block sales call (either before or after they called) and do it every time - landline and cellphone
Put your phone on silent all day, RUN your life, don't let your Notifications run it for you!
Stop looking at, watching, listening to, or reading news - it is costing you tens of thousands of dollars a year and you will still be informed without it
Work in 25 minute segments then give yourself a micro 5-min reward of leg-stretch, drink, chilling etc. then go again!

---